Mannington Hardwood Flooring Photos
About Mannington Hardwood Flooring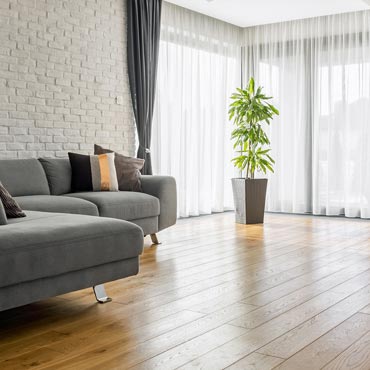 Still the Flooring with Worlds of Elegance
For warmth and charm, nothing surpasses the beauty of wood floors and their exceptional beauty makes them easy to live with. Our 7-step UltraWear Plus finish with ScratchResist™ adds a durable surface that never requires waxing or refinishing and provides greater resistance to everyday household scratches. Of course, our UltraWear™ Plus finish also makes our floors easy to maintain.
The finest hardwoods.
We use only premium select wood species for our top face and 100% North American hardwoods for our inner plies for beauty and durability that shows.
Amazing strength.
Our 5-ply, cross-grain construction makes every Mannington Hardwood Floor far stronger than a single, solid piece of wood. We warrant they won't warp, buckle, or gap.
Introducing ScratchResist™. Unbeatable Durability.
Our 7-step UltraWear™ Plus finish with ScratchResist™ is a polyurethane/aluminum oxide finish that provides unsurpassed protection against normal wear. Each UltraWear™ Plus step is an ultraviolet cured process we pioneered. It gives our solvent-free finishes wear-and-scuff-resistance along with depth and clarity you just can't get any other way. Waxing? Polishing? Forget it!
ScratchResist™ helps to protect against fine scratches that dull the finish of wood floors. Now available on all Mannington Wood Floors™. Click here for more information on ScratchResist™.
Universal installation.
Mannington Wood Floors™ are made to be installed virtually anywhere. At, above, or below ground level. In kitchens, basements, attics-places where ordinary solid wood floors can't survive.
Precise fit.
Our UltraFit™ tongue & groove system is precision engineered using diamond-tip tooling. That means you get a uniform and stable fit whether you glue, staple, nail, or float your installation.
Easy care.
Along with exceptional durability, our UltraWear™ polyurethane finish delivers long-term protection against normal wear and scuffs. Just follow simple maintenance techniques like regularly sweeping or vacuuming, cleaning spills promptly, and strategically placing mats, rugs, and casters. No damp mopping is required.
Planet-friendly manufacturing.
It takes more than twice as many trees to produce a traditional solid wood floor as it does to produce one of ours. Plus we use water-based stains and finishes that don't contain harsh solvents, and our adhesive system is formaldehyde-free.
---
---
Featured Products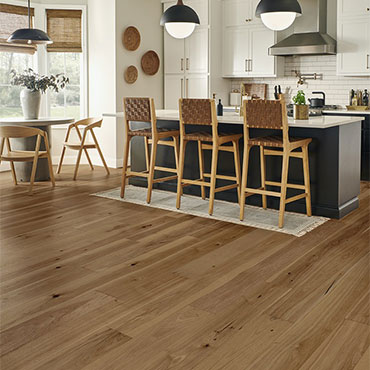 Mannington Hardwood Flooring
Forest Park, the latest addition to the Latitude Collection® is a 7.5" wide plank, sliced face Hickory with extra long lengths up to 83". Forest Park comes in 4 hand-stained colors with subtle wire brushing that accentuate the warmth and color variation that can only be found in a hickory floor.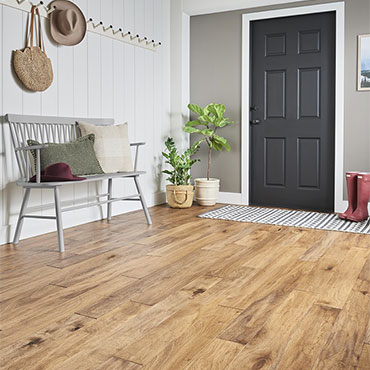 Mannington Hardwood Flooring
Unapologetically rustic best describes Kodiak. The hand stained and hand scraped finish creates a warm, rich visual that lends itself perfectly to the modern farmhouse vibe that continues in popularity.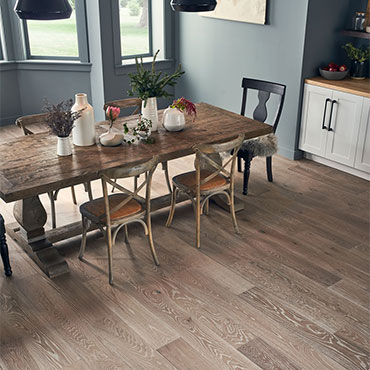 Mannington Hardwood Flooring
Now available in stores: our Prospect Park hardwood flooring, shown in Color: Arch. Inspired by the pre-war architecture of New York City in the 1920s, it uses subtle, muted colors and multiple stain layers to achieve the feel of high-end, luxury living.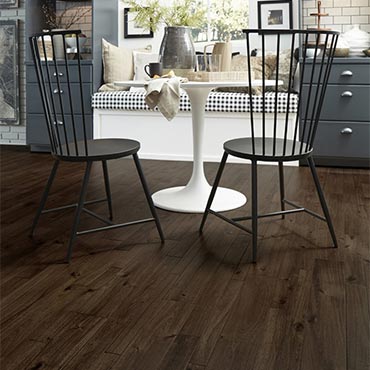 Mannington Hardwood Flooring
An exotic look, Bengal Bay provides a premium sliced face, a broad, modern color palette with distinctive hand staining effects and mixed width planks.
Featured Articles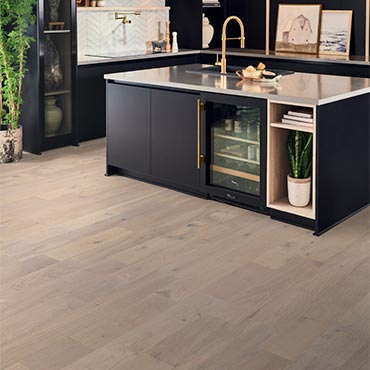 Mannington Hardwood Flooring
Engineered Hardwood flooring is real wood from top to bottom that's normally made using multiple wood veneers or slats of wood glued together at opposing directions. The word "engineered" just refers to the way in which it's made. There are many benefits to choosing an engineered product over a solid product–in fact.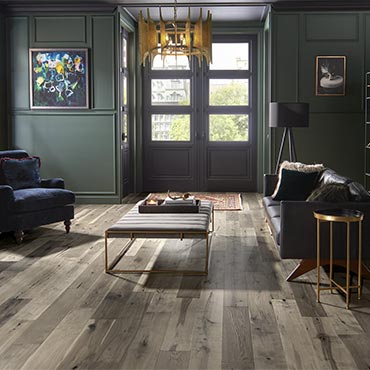 Mannington Hardwood Flooring
As a leader in the flooring industry, Mannington has put together a guide that details everything you need to know about hardwood floors. Whether you're having a new home built or simply looking to make an upgrade to your home's existing floors, hardwood is a beautiful, durable option! Before you decide on hardwood, here's what you need to know.